Castles, Capes & Clones News Round-Up - Week of February 16, 2014
#DISNEY
Toy Fair 2014 News
Earlier this week, Toy Fair 2014, the largest toy industry expo in the Western Hemisphere, took place at the Jacob K. Javits Convention Center in New York City. Kicking off Toy Fair was a presentation by Disney Consumer Products which highlighted several lines coming out this year, including
Planes: Fire & Rescue
,
The Amazing Spider-Man 2
,
Guardians of the Galaxy
and
Star Wars: Rebels
.
Adventures by Daddy provided an excellent report
with a great collection of photos of the new toys as well as from the Disney Consumer Products presentation at Toy Fair.
ComingSoon.Net also had a great report
with video clips from the Disney Consumer Products presentation. (source:
Adventures by Daddy
,
ComingSoon.Net
)
Hong Kong Disneyland to build third hotel, Iron Man Experience news
With the continued of Hong Kong Disneyland with the additions of Toy Story Land, Grizzly Gulch and Mystic Point, the
Hong Kong Disneyland Resort will be adding a new 750 resort hotel
. The hotel will be the largest on the resort and will feature an adventure/explorer theme that looks like a cross between Animal Kingdom Lodge at Walt Disney World and Disney's Aulani on Oahu, Hawai'i. Also, be sure to check
Disney and More for some fantastic screenshots
from Iron Man Experience coming to Hong Kong Disneyland in 2016.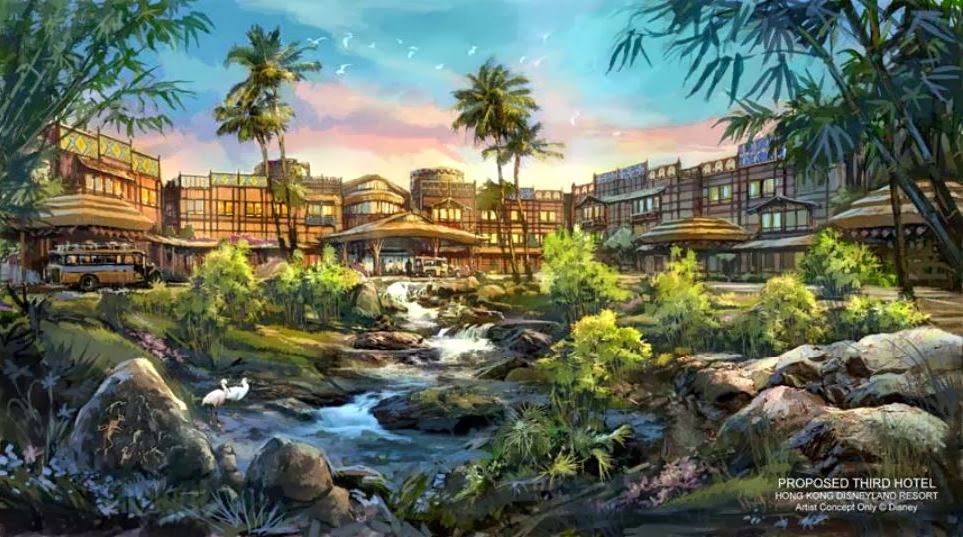 Photo from Disney and More
(source:
Disney and More
)
Good Morning America Calls For "Let It Go" Videos
Disney's
Frozen
may take place in the snow and ice, but it continues its red hot reign with
ABC's Good Morning America calling for people to submit videos
of them singing "Let It Go." Chosen pieces will be part of a sing along that will air on the show. No date has been announced for the airing, nor is there any deadline listed for submissions.
Check out Good Morning America's Web page for more information.
(source:
Good Morning America
)
Unlock a Lightsaber in Disney Infinity
Have you ever wanted to have Rapunzel or Elastigirl fight with a lightsaber? Well, you can. But, it will require a lot of work and you'll have to wait for the upcoming Phineas and Agent P figures to come out.
Check out Disney Geekery to find out what you need to do
. (source:
Disney Geekery
)
#MARVEL
First Guardians of the Galaxy Trailer Released
On Tuesday, Chris Pratt made a "surprise" visit on
Jimmy Kimmel Live
to introduce the first official trailer for Marvel's Guardians of the Galaxy, coming out this August. After the airing, the Internet was abuzz with excitement. Also, be sure to
read my thoughts on the trailer
!
(source:)
Meet The Guardians of the Galaxy
Marvel released intro videos for each of the main characters (Star Lord, Gamora, Drax the Destroyer, Rocket Racoon and Groot) of Guardians of the Galaxy.
All the videos are posted on Guard The Galaxy's site
. Check them out! In addition to the videos, Marvel also released its first movie poster for the film. Check it out: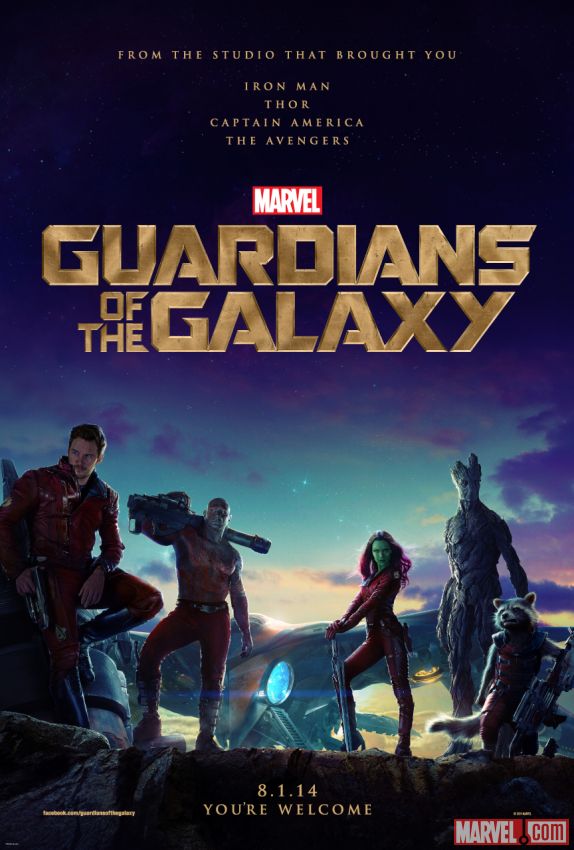 (source:
Guard The Galaxy
,
Marvel
)
FOX announces Fantastic Four cast
The Hollywood Reporter reported that FOX
cast its Fantastic Four. The cast consists of Miles Teller (
The Spectacular Now
,
21 & Over
) as Reed Richards/Mr. Fantastic, Kate Mara (
House of Cards
) as Sue Storm/The Invisible Woman, Michael B. Jordan (
Chronicle
,
Fruitvale Station
) as The Human Torch, and Jamie Bell (
Billy Elliot
) as Ben Grimm/The Thing.
Be sure to read my initial thoughts
on the casting. (source:
The Hollywood Reporter
)
Avengers: Age of Ultron to film in South Korea
Marvel Studios announced
that "key elements" of
Avengers: Age of Ultron
will film in Seoul in South Korea. In addition to Seoul, South Korea, filming will also take place in London, United Kingdom, Johannesburg, South Africa and Aosta Valley, Italy. Other locations will be announced in the future. The production will be based in London. (source:
Marvel
)
X-Men: Days Of Future Past Website updated
20th Century Fox has updated the X-Men: Days of Future Past Website with lots of new photos and biographical information on the X-Men both past and present. You can visit the official Web site at
www.x-menmovies.com
or check out
ComicBookMovie.Com for many screen shots and stills
. (source:
x-menmovies.com
,
ComicBookMovie.Com
)
#STARWARS
Lucasfilms introduces Zeb, Sabine and Hera from Star Wars: Rebels
At Toy Fair 2014, news had gotten out introducing the six principal characters of
Star Wars: Rebels
. While Lucasfilm had released introduction videos for Chopper, Kanan Jarrus and Ezra Bridger, this week, we were treated to the introduction videos of the final three - Zeb Orrelios, Sabine and Hera Syndulla.
Zeb, based on the original Ralph McQuarrie concept sketches for Chewbacca, is an alien of unknown origin (for now) and serves as the muscle of the group. He also has a big brother relationship with Ezra...
Sabine is a Mandalorian who specializes in explosives and loves to leave Rebel graffiti tags to let the Empire know that they've been there...

Hera Syndulla is the Twi'lek pilot of The Ghost who may be strong willed, but also is very nurturing...
(source:
Star Wars You Tube Channel
)
Discussion about Women in Star Wars: Rebels
As news came out from Toy Fair 2014 about the characters and their toy representations from Star Wars: Rebels, it became apparent that the women characters were taking the back seat. Sabine and Hera were the last to receive their introduction videos and, aside from a LEGO mini-figure, there was no toy representations of either of the two characters introduced at Toy Fair.
Fangirls Gone Rogue started a discussion
online on both their
facebook
and
twitter
feed that spread across the Internet. Interestingly enough, shortly afterward,
Newsarama had a discussion with Hasbro
who confirmed that figures for Sabine and Hera would be introduced at San Diego Comic-Con International in July.
See FANgirl The Blog for a full report
. (source:
Fangirls Gone Rogue
,
Newsarama
,
FANgirl The Blog
)
Star Wars Weekends adds extra weekend
This year's Star Wars Weekends held annually at Disney's Hollywood Studios at Walt Disney World will be entitled "Join The Rebellion" and will feature an extra weekend!
According to the Disney Parks Blog
, the event will run every Friday, Saturday and Sunday from May 16-June 15, 2014. James Arnold Taylor, celebrity voice actor and voice of Obi-Wan Kenobi in
Star Wars: The Clone Wars
(among others), will return as the host. Also, while not in the Disney Parks Blog announcement, there has been
some news about other entertainment at Star Wars Weekends
. While the Symphony in the Stars fireworks will play each night, it appears as the highly popular Hyperspace Hoola has been retired. Disney told cast members a 'nightly curtain call moment featuring Star Wars characters' will take place instead, but it is unknown as to what this will consist of.
Photo: Disney
(source:
Disney Parks Blog
,
WDWMagic.com
)
#MUPPETS
John Henson, son of Jim Henson, passes away
On Saturday, February 15, John Henson, the son of the legendary Jim Henson, passed away today from a massive heart attack. John Henson, through the 1980s-2000s, was involved with The Jim Henson Company, most notably as the voice and actor of Sweetums. When you watch Muppet Vision 3D at either Disney California Adventure at the Disneyland Resort or Disney's Hollywood Studios at Walt Disney World, it is John Henson who plays Sweetums in the film. (source: Various)