Castles, Capes & Clones News Round-Up - Week of February 9, 2014
I am trying to play around with various formats for this News Round-Up. Rather than the random placement of stories I had been doing, I am going to divide the stories by categories, or, in this case, #Hashtags. Any feedback would be kindly appreciated. Let me know what you think.
#DISNEY
Disney California Adventure Turns 13!
Okay...I'm going to stick in one thing from the previous week. On Saturday, February 8, Disney California Adventure celebrated its 13th birthday. The little park that could has turned into a shining Disney destination and, for that, it should be proud! If you missed it,
I posted 13 photos for 13 years of Disney California Adventure
! I hope you'll check it out!
Movie Legend Shirley Temple Black Passes
On February 11, legendary actress Shirley Temple Black passed away.
D23 offered a wonderful memorial
article speaking of her connection to the Walt Disney Company, including her presenting Walt Disney with a special Academy Award for
Snow White and the Seven Dwarfs
as well as her by at the opening of the Sleeping Beauty Castle Walk Through at Disneyland. (source:
D23
)
Disneyland Paris Shares More Details About Ratatouille The Ride
At the Annual General Shareholders Meeting,
Disneyland Paris released more details about the Ratatouille inspired area
coming to Walt Disney Studios. In a presentation by Walt Disney Imagineering Executive Vice President & Senior Creative Executive Tom Fitzgerald, shareholders were shown a model of the attraction as well as many of the details for both the attraction, titled Ratatouille : L'aventure Totalement Toquée de Rémy or Ratatouille The Ride for short, and the area's restaurant Le Bistrot de Rémy. While no official date was given for the opening, they did announce Summer 2014. Also, check out
DLRP Today for a great annotation of the image Disneyland Paris
released during its Annual General Meeting. And also read The
Pixar Times' reports on Michael Giaccino
, the composer for the
Ratatouille
animated film, composing the music for the attraction.
(source:
DLP Welcome
;,
DLRP Today
,
The Pixar Times
)
"Festival Of Fantasy" Parade Previewed At Walt Disney World
Walt Disney World held a preview for the media of the upcoming "Festival of Fantasy" Parade. The event was backstage at the Magic Kingdom for the media and featured some of the floats and costumes.
Check out DIS for photos and video from the preview.
(source:
DIS
)
Cast of FROZEN Perform Live
During an event timed during the Oscar voting period,
Disney held a special live performance
to select guests at Bel Air's Vibrato Grill. On hand that evening were some of the stars from Disney's
FROZEN
which not only is nominated for an Academy Award but has also now made more than $900 million worldwide. Kristen Bell (Anna), Idina Menzel (Elsa), Josh Gad (Olaf) and Santino Fontana (Hans) all performed various songs from the hit film. Below are video highlights from
Inside The Magic
's YouTube Channel:
(source:
Variety
, video:
Inside The Magic
)
Disney Searches For 10 Startups For Disney Accelerator Program
The Walt Disney Company has launched
Disney Accelerator
, a program that "will bring together an amazing community of entrepreneurs, creatives, mentors, investors, and technologists, all with a common trait: the ability to dream big, and a vision for making an impact on the world of entertainment and technology." The company is in search of 10 startup companies that will gather in Los Angeles for 13 weeks to come up with consumer and entertainment product. These companies will have access to Disney resources, including $120,000 in working capital. (Source:
Disney
)
Disney Launches FROZEN The Musical Website
Over the last few weeks, we had heard Disney CEO and Chair Bob Iger talk about the potential of a Broadway style show based on Disney's hit animated feature
FROZEN
. It appears, Disney.Com quietly launched a Website for people to sign up for information about the upcoming musical. The site is at
www.frozenthemusical.com
.
Let It Snow Tokyo Edition
Last week, Tokyo experienced one of the heaviest snowfalls in the last two decades. But, this didn't stop Disney fans (the cold didn't bother them anyway) from visiting the Tokyo Disney Resort and taking some rather wonderful photos.
Check out Fat Hobbit's Website for a collection of fantastic shots
from Elsa's recent visit! (source:
Fat Hobbit
)
PUSH, Ziti Sisters and Disneyland Paris Hotel Characters...Oh, My!
Despite a social media #SavePUSH campaign and some initial confusion as to whether Disney was actually going to retire PUSH the Trash Can from the Magic Kingdom at Walt Disney World,
PUSH, at least for now, is no longer meeting guests
. Apparently, the popular character was a contracted character and Disney let the contract expire. Although, it also appears that its entirely possible that the expiration also opens the door to eventually take over the character as their own. Not so confusing, unfortunately, is the cancellation of the musical and comedy troupe the Ziti Sisters who entertained guests at the Italy Pavilion in Epcot.
They are set to have their last performance on February 22
. The retirement of the Ziti Sisters, however, is said to be to free up money in the budget to continue having Anna and Elsa continue to meet at the Norway Pavilion. Their appearance at the Norway Pavilion was initially supposed to be temporary. And, across the pond, at Disneyland Paris, some sad news that sometime later this year (I've heard November, but I don't have a source), the resort will discontinue character meet-and-greets at the hotels. One of the things that make Disneyland Paris special is the fact that guests could also meet character without going into the parks. The move is said to also free money up in the budget for other kinds of entertainment within the parks. No details have been given. In response to these cancellations, I wrote a
blog entry on why people get upset
when these things happen. (source:
MiceChat
,
DIS
,
Disney-Me
)
Disneyland Resort's Mariachi Divas Honored With Grammy and Disney Storyteller Statues
In celebration of their 2014 GRAMMY win for Best Regional Mexican Music Album, the
Disneyland Resort honored each of the Mariachi Divas
with a Disney Storyteller Statue. The Mariachi Divas perform at Pacific Wharf at Disney California Adventure and throughout the Disneyland Resort. Congratulations to the Mariachi Divas! (Source:
Mariachi Divas
)
#STARWARS
Final Season of Star Wars: The Clone Wars Coming To Netflix
Star Wars fans can rejoice! After months of wondering if we'd see a conclusion to the fan favorite animated television show
Star Wars: The Clone Wars, it was finally announced that the sixth and final season will be made available on Netflix starting March 7
. And, not only will all 13 episodes of the season, entitled "The Lost Missions" be available, but all five previous seasons that aired on Cartoon Network along with some director's cuts will also be on Netflix, too. Binge watching to commence soon! (source:
USA Today
)
Meet Kanan and Ezra from Star Wars: Rebels
This week, Lucasfilms has introduced us to two new characters in its upcoming animated series
Star Wars: Rebels
on Disney XD.
The first is Kanan
, a Jedi who went into hiding after the Jedi Purge at the end of
Star Wars: Revenge of the Sith
who, during the rise of the Rebel Alliance, finds he needs to pick up his lightsaber after many years.
The next character introduced is Ezra
, a teenage con artist who finds himself dealing with his burgeoning connection to the Force and is a reluctant participant in the Rebellion.
Star Wars: Episode VII To Film From May To September; Principal Casting Mostly Complete
Hit Fix is reporting
that, through various sources, it has been confirmed that the filming dates for the much anticipated
Star Wars: Episode VII
will go from mid-May to September of this year. Director and co-writer JJ Abrams has previously said that he thought filming would begin in May, but, no confirmation had been made. Hit Fix also reported that the principal casting has mostly been completed, but there's no details as to who the characters or cast will be. (source:
Hit Fix
via
Bleeding Cool
)
#MARVEL
Captain America To Start Meeting At Disneyland On March 7
The Disney Parks Blog officially announced that Captain America
would start meeting guests starting March 7 at
Captain America: The Living Legend and Symbol of Courage
, part of Innoventions in Tomorrowland at Disneyland in Anaheim, CA. This will be the third Marvel installment at Disneyland following
Iron Man Tech Presented by Stark Industries
and
Thor: Treasures of Asgard
, both of which are still available for guests to experience. (source:
Disney Parks Blog
)
Black Widow Solo Film Being Explored
In an interview with Total Film, Marvel Studios Production President Kevin Feige talked a bit about Black Widow's role in the upcoming
Avengers: Age of Ultron
. Feige said, "[Black] Widow's part in that is very big. We learn more about her past and learn more about where she came from and how she became in that film." He also said that there has been some development in a solo film for Marvel's scarlet haired spy, "The notion of exploring that even further in her own film would be great, and we have some development work with that."
Pretty great for a character who's turning 50 this year!
(Source: Total Film via
ComicBookMovie.Com
,
Marvel
)
Marvel Movie Actors Discuss Characters And Costumes
In Total Film,
Anthony Mackie, who will play Sam Wilson/The Falcon
in
Captain America: The Winter Soldier
, talks a bit about his character and how he got his wings. Said Mackie, "The Air Force had a specialty group...Like the Navy SEALs. But instead of giving them the ability to quietly go in and manoeuvre through hazardous territories, they gave them the ability to fly…" He also said that we should expect an evolution of the costume, "As the franchise goes on and you see more of me and Captain America, the suit will evolve into the Ultimate look, the hard-leather black look. The suit that he has in this movie is more of a military suit because it's the first time you see it." In another Total Film interview,
Elizabeth Olson talks about the costume for her character Wanda Maximoff/Scarlet Witch
in
Avengers: Age of Ultron
. Said Olson, "My favourite piece is my secrecy cloak that prevents anyone from seeing what I'm wearing. There's a hood, and a robe – it protects the image! ... It respects and involves the comic-book character but it's different, more rooted. It's for someone today."
(Source: The Falcon - Total Film via
ComicBookMovie.Com
; Scarlet Witch - Total Film via
ComicBookMovie.Com
)
Guardians Of The Galaxy Action Figures Released
Yahoo! revealed a poster revealing the upcoming Guardians of the Galaxy Marvel Legends Build-A-Figure line
. The poster will be distributed by Hasbro at the American International Toy Fair this weekend in New York City. The line with feature Marvel Cinematic Universe representations of Star Lord, Gamora, Rocket Raccoon and Drax The Detroyer. Each figure will contain a piece of the 5th team member Groot. The figures will retail at $19.99.
(source:
Yahoo!
via
ComicBookMovie.Com
)
TV Guide Previews Lady Sif's Appearance on Marvel's Agents of S.H.I.E.L.D.
TV Guide provided a first look
at the March 11 episode of Marvel's
Agents of S.H.I.E.L.D.
in which Lady Sif of Asgard (played by Jamie Alexander in the
Thor
films) makes an appearance. The episode entitled "Yes Men" has Sif fighting alongside S.H.I.E.L.D. as she comes to Midgard to bring her Arch-Enemy Lorelei back to Asgard. Check out this photo link from
Comic Book Resources
:
(source:
TV Guide
via
Comic Book Resources
)
#MUPPETS
The Muppets Help Jimmy Fallon Say Good-Bye To Late Night
On his last night on Late Night, Jimmy Fallon invited the Muppets to perform The Band's classic song "The Weight" as a good-bye. After the performance, Jimmy walked over to the new studio of The Tonight Show where he was welcomed as the new host. If you missed it, here's the YouTube video:
Miss Piggy To Wed In Vivienne Westwood Gown
Harper's Bazaar featured a short but cute interview
with Vivienne Westwood by the Muppet Diva herself Miss Piggy. Westwood designed Miss Piggy's wedding dress for the upcoming film
Muppets Most Wanted
.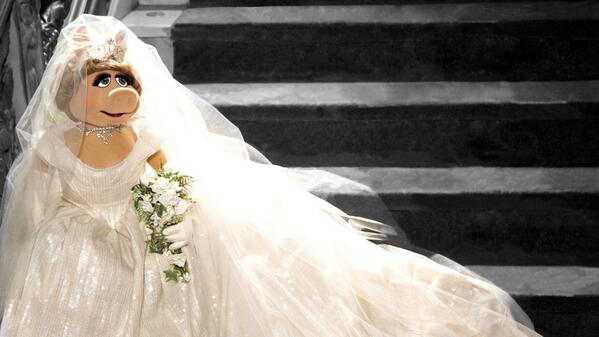 (source:
Harper's Bazaar
. Photo Link:
The Muppets
)
#ONCEUPONATIME
Sunny Mabrey Cast As Glinda The Good Witch On Once Upon A Time
The Hollywood Reporter has reported that Sunny Mabrey
(
Memphis Beat
,
The Client List
,
Mind Games
) has been cast as Glinda The Good Witch on ABC's
Once Upon A Time
. We've already learned that the Wicked Witch of the West (
Lost
's Rebecca Mader) will be making her evil presence in the second half of the third season. So, it's exciting to see that Glinda will also be part of the series. (Source:
The Hollywood Reporter
)